The COVID pandemic has imposed a huge cost on the world in both human and economic terms. The way we spend our work and leisure time has been forced to undergo a radical shift in a compressed timeframe.
For investors in real assets, the office sector has long been a key market segment of real estate markets. However, the rapid change in how and where work we work raises questions about the future of the office. With many companies demonstrating they can operate at, or near, capacity with most employees working from home, will there be a full return to the office? Will office markets be fundamentally disrupted? And how should investors react?
Obviously, challenges lie ahead. But with a range of competing factors such as tension between tenants downsizing on one hand but increased space requirements for staff on the other, makes the picture unclear.
While flexible working is an important tool for businesses, the future of the office space will be centred around not just real estate flexibility but workforce agility. Landlords will need to offer scalable, adaptable solutions to attract and more importantly retain blue-chip tenants. Landlords that do not, will increasingly risk higher vacancy rates, lower levels of rental income resulting in declining values.
While some reduction in overall utilisation is likely inevitable, most of this will be in offices that are now considered less fit for purpose. High quality workspaces will remain a pivotal part of the infrastructure for most large corporates and SME's for work to be efficient.
The role of office space as a tool for attracting and retaining employees will remain vital. Younger workers are likely to be more attracted to offices as their work from home (WFH) environments are frequently less optimal than workers who are in more established dwellings. In addition, younger workers are often more attracted to city centres for socialisation purposes outside work hours.
While staff interpersonal relationships can be maintained at a distance through technology, it's difficult to build them to the same level without people occupying the same space. It can also be more difficult to learn a complex role without hands on mentoring and training from colleagues. Perhaps in the future it may be possible to better mimic physical relationships and form more robust ties online. But for now, that prospect appears challenging. While adoption of flexible WFH arrangements will grow, its overall extent remains unclear.
Employers also need to address risk management. A detached workforce has its own risks and employers have a duty of care for staff that does not stop in the office but continues at home, which is a more complex deliverable, particularly when applied at scale.
The WFH shift through the pandemic has been material. As shown in the following chart, Melbourne has been the most impacted with 90% of employees out of the office as at 30 September 2020. Even with the latest easing of Melbourne's restrictions allowing up to 25% of office staff to return to the office by 30 November, the daily utilisation of office space remains constrained across the capitals. While this shift is dramatic, it needs to be viewed in the context of actual lease vacancy rates which, despite nearly doubling in some cities like Melbourne, still remain reasonably contained.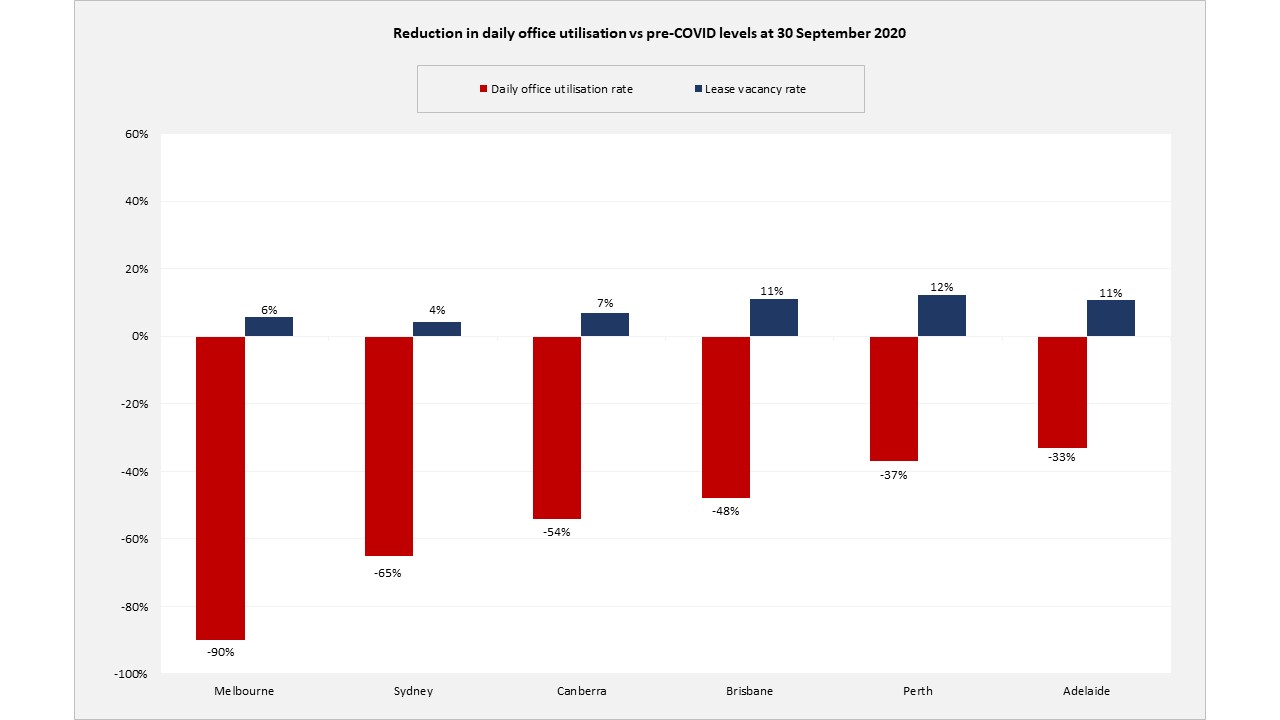 Source: CBRE, Zenith Investment Partners
Over the short to medium term, investor returns have not been dramatically impacted. Based on anecdotal evidence, the average residual lease term for Australian office is approximately 5 years and across prime office markets, rent collections remain at approximately 90% relative to pre-COVID levels. Unless we see a further wholesale wave of lease defaults, lease income should remain broadly stable at least until leases reset.
This is largely supported by the returns across core real estate funds (as measured by the MSCI/Mercer Australia Core Wholesale Monthly PFI) which show that for the office category, despite exposure to rent abatements and capital write-downs, returns for the year to 30 September 2020 remained in positive territory, underpinned by income which is the foundation of the asset class.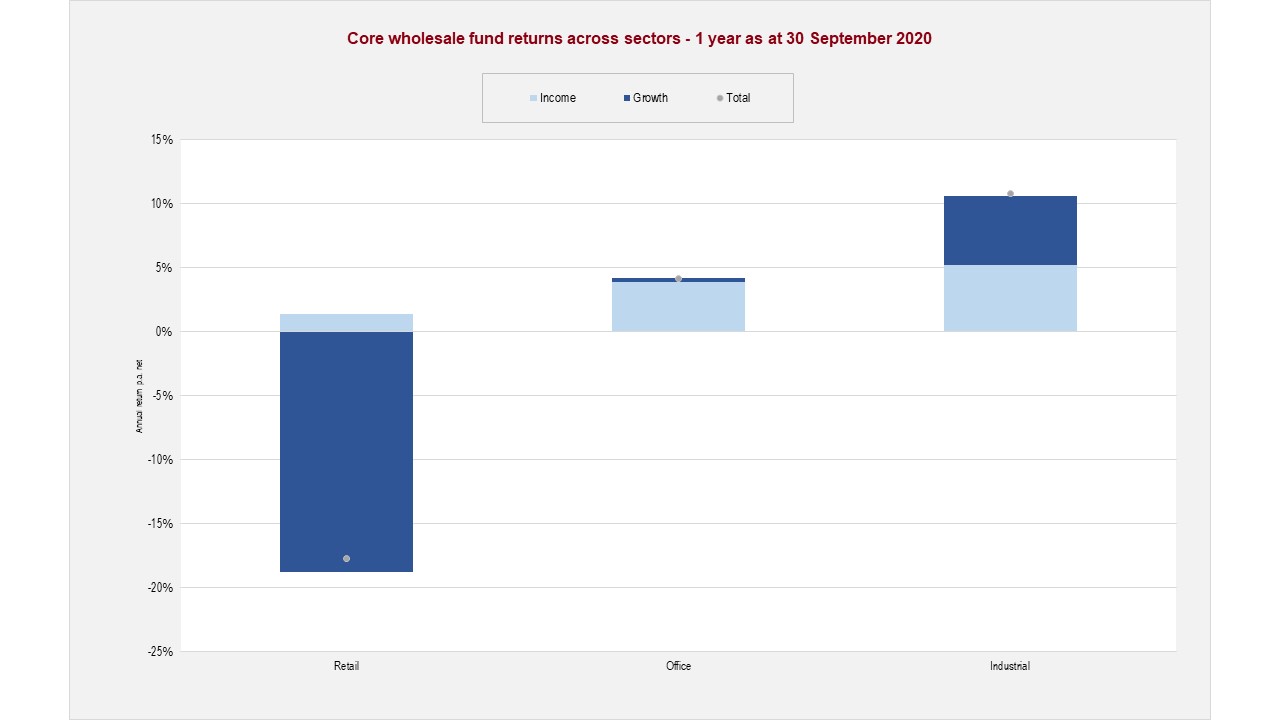 Source: MSCI
Although key market metrics have not yet moved dramatically, it's obvious that change will flow through as the full economic impacts of the crisis are realised. The reality is that we're likely to see less frequent use of office space per employee. This will mean changes in the business models for office owners; however, we don't believe it invalidates the purpose of office spaces.
Landlords have been required to respond to changing tenant needs for decades. We believe that for large well-resourced asset managers with quality platforms, the current challenges are resolvable and continued to be underpinned by supportive capital market settings.   
Further information will be available in Zenith's 2020 Real Assets Sector Review, due out in mid-December 2020.